Mommy visited auntie Suko and her 5 cats today. Mommy said that she wants to catnap them... I hope she's not thinking of replacing me just because I scratched her yesterday. Sheesh I told her I was sorry.
Duke visited me once, a week after I was adopted to welcome me home. He ate my food, played with my toys and took over me and mommy's bed.
Duke has 4 brothers and sisters. Mommy said they're all very sweet and friendly cats. Ella is mommy's favorite... She chirps at birds!
Here's George. Mommy said he fell off the couch when he was turning over for a tummy rub. What a dummy. Fine that happens to me too... But I umm do that on purpose... Yeah.
Heres Shooter with Duke. He wasnt a fan of all the little kiddy hands grabbing him and went away for some privacy. Auntie Suko said he's usually the friendliest. I understand. I don't like children either.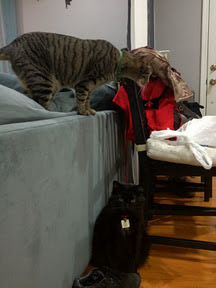 Last but not least here's gizmo the Maine Coon. Auntie Suko found him abandoned on a bridge when he was a teenie baby. He's a bit shy.
Sounds like a house full of fun. I miss having kitty siblings... Daddy says one day I can have one...but I have to be patient.
- Posted using BlogPress from my iPhone