Happy birthday to me
Happy birthday dear me-e-e
Happy birthday to me.
According to my adoption paperwork today is my birthday. Mommy said its probably a fake birthday since she was told I was estimated to be 5 years. 12/1 is probably my surrender date. Still mommy said she would rather celebrate what she thinks is my birthday than my gotcha day so she made me a cake. Tasted disgusting so I made her serve me something else that I liked.
After dinner lots of people came over. I thought it was my birthday party but momma said it was a farewell party for a neighbor. That makes sense. Taz was my only friend that showed up.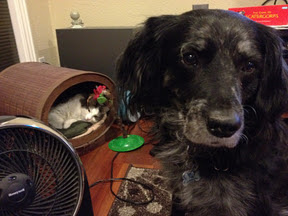 - Posted using BlogPress from my iPhone