Momma got me drugs. She's a bad influence.
She was worried that I had asthma and so she dragged me to the vet today. Dr. S thinks it might just be a sinus infection so she prescribed me a couple different medications to take. They were yucky so I had a hard time swallowing them tonight. The usual greenies pill capsules didn't mask the yuckiness. But momma said I better take the medicine and get better or next time I'll get X-rayed and get a qtip up my nose. Mommy also found a bump on me and Dr. S. picked at it. I heard something about it being a wart or cancer. Dr. S said she'll check for us when I get sedated for a teeth cleaning. Said there's nothing to be worried about but we still are.
To add to the crappy day, there were baby cats terrorizing me while I was stuck in the carrier. Ggrr!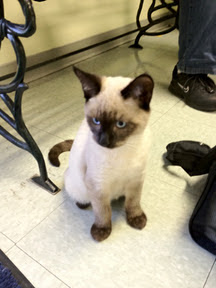 Posted using BlogPress from my iPhone