Auntie Sandra lied. She didn't bring Slayer with her. But I did get a new toy. Mommy made a miniature me out of
felt
. I'm not sure how I feel about it yet...I like it, but it creeps me out at the same time.
1. Yay! New Toy.
2. Meh...it's not very exciting
3. Hey! don't take it from me. I love it!
4. Yeah... i don't really like it. Take it back.






Frontal View

Rear View
I'm bigger and better.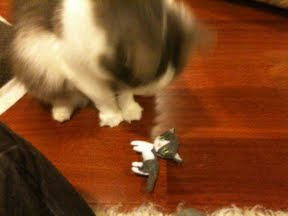 *Wack!* Now you're dead.
"My Buddy, My Buddy,
Wherever I go, he goes."