I made a new friend today. Her name is Mia and she's four.
Our mommies have known each other ever since they were our age. Since Mia's grandparents were out of town, her mommy asked my mommy if she could watch Mia for a few hours while she attended a meeting. I wasn't happy. I don't like kids, they scare me. I would never hurt them, but I will not go near them either. I stay about 5 ft away and stare at them.
But Mia was a good girl. She gave me space, and was very patient. By the end of the night I even sat next to her a bit and played. I was still very skittish but mommy was very proud of me.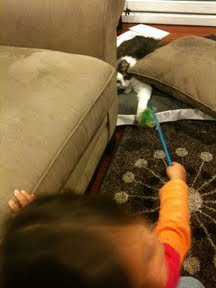 - Posted using BlogPress from my iPhone