Mommy found out that okcats.blogspot.com was hosting a tummy contest with award money going to a shelter of the winners choice. So exciting! I can't wait to get prettied up and have mommy take pictures of me. "Say what? Today? Deadline's today? I'm not ready...."
Mommy and I looked through her iPhone for the best photo of my tummy. It was a hard decision to make but we decided on this one...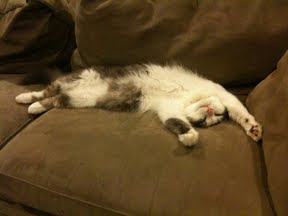 Runner up: We both thought this was more of a boobie picture.